Posted on | June 5, 2014 | No Comments
minneapolis band poliça cover lesley gore's 1960s shuffling pop hit which will be made available on the band's re-release their second album shulamith (digitally on june 10th and vinyl later this summer on mom+pop)
Posted on | May 31, 2014 | No Comments
dreamy and earnest track by london-based indie rock trio these ghosts lifted from an june 16 release on nx records/accidental.
Posted on | May 27, 2014 | No Comments
second full-length by album atlanta-based noise pop band gold-bears will be released on june 3 by slumberland records. check out their track 'for you.'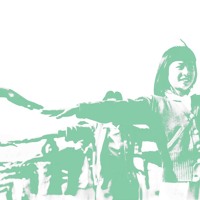 Posted on | February 2, 2013 | 3 Comments
Chazwick Bundick has released two albums as Toro Y Moi which were cherished in the Indie music scene for his ability to do danceable songs with synths and being one of the first chillwave artists. In Anything In Return, he does what he knows how to do, and he doesn't fail.
"Harm in Change" works as a good opening track immersing you into a swinging beat as its intensity grows as we get further into it. Once it finishes, the music has already embraced you and I can assure that your feet will be already moving to the beat. The two singles that follows are outstanding, especially "Say That" with a repeating sample of a female voice contrasting with his calmed voice. After "Rose Quartz", which builds itself slowly in a beautiful way, the album suddenly loses its power with songs such as "Cola" and "Studies" that seem to be there only to make the album last longer.
However, Toro Y Moi knows how to cheer it up again in the brilliant "Cake". The instruments joins the vocals in everything they do: in the chorus they sound fun and interactive as he charmingly sings "She knows, I'm gonna be her boy forever" while in the verses as the voice sounds calm, the instruments remain deep at the back. In the following tracks, the fun and active spirit goes on and he succeeds at ending the album impressively as he started it.
Even with that sluggish part in the middle of the record, Anything in Return flows extremely well and keeps your attention all the time. It may not be one of the best albums of the year, but it isindeed a very enjoyable one that makes you want to dance.
Posted on | February 1, 2013 | No Comments
Eddi Front's self-titled EP, released on Best Fit Recordings, opens with "Gigantic". An intricate piano lulls you into Eddi's world of heartbreak and the sheer beauty stops you in your tracks. Evoking goosebumps with her hazy voice the moment she sings the first line, "I'll crawl out of this hole soon enough," showcases the raw talent present in the young singer and highlights the personal level of the lyrics which takes you on a journey through the four track EP where the delicate notes of the piano create a haunting atmosphere. The EP is dripping with despair and sadness but partnered with her unapologetically honest and sometimes brutal lyrics, "while you're fucking some old dusty chair, I'll be eating bananas and riding a big, black stallion," you don't feel sorry for her at all.
Posted on | January 25, 2013 | No Comments
Experimental Brooklyn rockers Dirty Projectors perform the Usher hit 'Climax' for Australian radio station Triple J's Like A Version radio show.
Posted on | January 22, 2013 | 1 Comment
The Fontaine Classic is a relatively new duo from Portland, Oregon who has out a remarkable debut LP, Latest Faith. Released in two halves of five songs, we could first listen to the first part last year, and only this week we were introduced to the second one.
There are some songs that are made to be opening tracks; "Tourist" is definitely one of them. Gloomy, distant and slightly dark, it stays steady in its intensity throughout the whole time, giving only quick emotional breaks with thuds and dramatic violins. But once it finishes, the band knows how to cheer it up enough to keep the same oppressive style in the short title-track. On the B-side of the LP, although they continue the low and somber spirit, they are quite different. In this second half you will find first an instrumental opening track, which works as a good introduction to mark the separation from the first one. The songs are longer, such as "Grassy Dirty", which has a guiding guitar that can both draw textures and produce shuddering moments. Throughout the whole record, the presence of the drums is generally at the back, sometimes even absent as in most of the song "Oldest of Everyone", but it always brings the exact amount of energy to fit into the music and create a well-organized balance. It is true though, that the latter part of the album is more sluggish and doesn't flow as well as the first one. Not to mention that the vocals -which had a unique style keeping a perfect equilibrium between subtleness, smoothness and melancholy with a dose of honesty- suddenly change to a clear Thom Yorkish style.
The ending track, "Genius", is quite disappointing for everything that precedes it, as it breaks the atmosphere and changes it to a more frenetic one. Still, this is just a minor personal detail on the tracklist order that can be forgotten once you start listening to Latest Faith again. Because you should know this: you will want to listen to Latest Faith again. At its best, you will find unperturbed vocals, a dynamicity between the faintly rhythmic drums and the neat guitar, and decorative violins and saxophones which beautify the melodies. Overall, this is good start for a new band like The Fontaine Mountain who tempts you to sink into their attractive gloomy atmosphere and it's easy to accept their invitation gratefully.
Posted on | January 12, 2013 | No Comments
freak folk singer/songwriter devendra banhart will release his nonesuch records debut, mala, on march 12, 2013. spring tour dates to be announced. track list below.
Devendra Banhart: Mala
Golden Girls
Daniel
Für Hildegard von Bingen
Never Seen Such Good Things
Mi Negrita
Your Fine Petting Duck
The Ballad of Keenan Milton
A Gain
Won't You Come Over
Cristobal Risquez
Hatchet Wound
Mala
Won't You Come Home
Taurobolium
Posted on | October 19, 2012 | 2 Comments
Natasha Khan, aka Bat For Lashes, delighted us with her 2006 debut, Fur & Gold for the marvelous combination of electronic arrangements and antique unknown instruments, such as the marxophone. In her follow-up, Two Suns, she continued using these techniques, but adding a peculiarity: Pearl, her alter-ego which gave double feelings of strangeness and an edgy sound to her music. Three years later, she is releasing The Haunted Man. Which is the difference between this album and her previous ones? A huge dose of hypnotizing charm.
Her first advance track, Laura, which can only be found in the special edition, immerse us into a simpler and fragile side of Khan. Though it is quite different to the rest of the record, led by a lonely piano, it showed us that on her new material we were going to discover a deeper side of her. And that is exactly what you get when you listen for the first time the breathtaking Lilies. The violins, which appear several times in this album, give a bright spirit to the melody which then evolves astonishingly into its maximum climate when she heartbreakingly sings in her already known high pitched tone: "Thank God I am alive!" All Your Gold was the second song we could listen to and the more I do, the more I think it is perfect to be a single, since the rhythm helps to make your feet move along and soon you'll be failing at trying to sing: "There was someone that I knew before, a heart from the past that I cannot forget."
There hasn't been a big change musically. However, this is the first time that it seems that the real Natasha Kahn is being completely exposed, which is surprising since this probably contains her more upbeat and danceable tunes. Throughout her career she has maintained the vibe of a mystic ritual at midnight – or at least that is the metaphorical atmosphere it transmits to me– which is formed thanks to her howling voice and the constant contrast of synthpop used in an unusual way. This is spotted clearly in the percussion, which includes drums machines, maracas, timpanis and even bells.
One of the things that called my attention was the male vocals, which she previously tried exploring with Scott Walker in The Big Sleep, from Two Suns. But this time they are featured in a different and much more interesting way. In the title track, the male vocals grow intensively, intermingling and supplementing each other, until she finally blooms into, "Still I'm holding in my hand, standing by my haunted man"; with the orchestral instruments and a marching drum that reinforce her to sound passively passionate.
With The Haunted Man, Bat For Lashes confirmed her place in the music scene: to be a mysteriously enchanting goddess. Fading slowly away in Deep Sea Diver, she leaves us satisfied with a gently glowing mood hoping she is back soon with more of her magic.
Posted on | October 4, 2012 | No Comments
'We could have been lovers." Could they? Could you? This song in itself is a story; a relatable tragic one. Boy meets girl, boy likes girl then life happens. All the dreams he has of holding her hand, kissing her and being one with her are shattered leaving absence and pain which leads to anger. I'm sure everyone has been there at some point; when you grow to really like someone or even love them and end up playing the fool. It was only you all along.
Listening to 'Cement Shoes' is a unique thing, a soothing feeling that tugs at something deep down. Like a nostalgic memory there is a glimmer of sadness within, surfaced by this tranquilizing ballad. It's just a glimmer yet enough, enough to take you away. You get lost in the waves of vocals, the faint whisper of a tambourine drags you under and you find yourself at the hands of the singer's emotions. Floating, weightless.
With this beautifully poetic and heartfelt song it's as if you can sleep forever. Peacefully dream and leave reality behind. Its inspiring, haunting, ceases to leave you and tears away your defenses; becoming a vulnerable fragile being reduced to a quivering exclaim. Look them up, listen and let go, be embraced by the muffled words of a victim of reality.
Sleepyface, Cement Shoes, take me away…
-Emily Priest
keep looking »